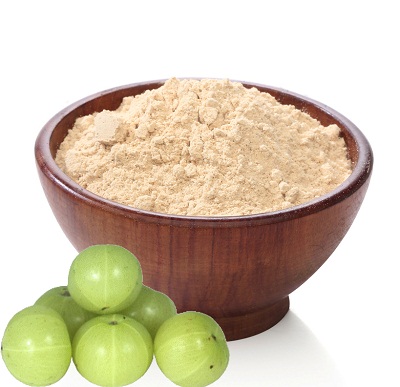 Type: Herbal Extracts/ Dry Extracts
Botinical Name:Phyllanthus Emblica
Common Name/ Other Name:Amla, Indian gooseberry,
Scientific Name(s):Embelia Longifolia(benth)hemsl
Active Content/Ingredients:Tannins
Family:Phyllanthaceae/Euphorbiaceae.
Part Used:-Fruits. Active Principle/Barries
Colour and appearance:Dark Brown/Dry Extract
Place of origin: Fruit of Embelica Tree from Himachal Pradesh
Extraction Type:-
Brand: Ambe Ns Agro Products Pvt.Ltd.
Product Code:AMBPE01
Testing Method: HPLC/UV Method
Packing: 25 Kg drums with double polybags inner side
Application : Hair Care , Skin Care
Effects & Properties: Conditioning, Lightening, Silky feel,Shiny-ness.
Uses:
Emblica displays powerful anti-oxidant action. It is one of the most essential vegetation in the conventional Ayurvedic healthcare program as well as in other conventional wellness techniques for immunomodulatory, anti-inflammatory, antiulcer, hepatoprotective, and anticancer activities. However, their is very restricted healthcare proof to back up the use of emblica for any sign.
Brief:-
Amla is generally non as Native indian Gooseberry. It is a deciduous place which Phas its fruits with great therapeutic value. Medical name of this is Phyllanthus emblica. Amla is India's own item and is a significant component of the famous Ayurvedic arrangements.
Chyavanaprash and Triphala. Initially believed to be a wealthy resource of supplement C, the effective concepts of amla has been proven to be low molecular bodyweight hydrolyzable tannins containing a molecular fragment just like supplement c (vitamin C).
Specification:- 20%-30% and 40% Tannin
Benefit
Amla being an Native indian fruits with great therapeutic value is used for the strategy to various illnesses. All areas of the place are used for the therapy. In Ayurvedic medications, Amla is a typical component. The shrub is regarded holy by Hindu religious beliefs and is even worshipped.
Amla has gone through tests pharmacologically (on animals) and medically for the following and discovered to be efficient.
Diabetes: Activation of the pancreatic, allowing release of blood insulin and consequently reducing blood glucose levels in diabetic issues is seen when fruit juice of the berries is taken regularly.So, it is used as a drugs for diabetic issues.
Abdomen Problems: One tbsp of the insert of amla results in combined with sweetie or buttermilk snacks diarrhoea. A drink made from the dry fruit, when combined with fresh freshly squeezed orange fruit juice and misri (sugar candy) helps serious bacillary dysentery. The berries is also non to be a protection as well as a balanced solution for stomach stomach problems and cancers.
Breathing Disorders: Amla shows useful for various respiratory illnesses, especially of the respiratory system, bronchial asthma and respiratory disease.
Eye disorders: The liquid combination of Native indian Gooseberry and sweetie is useful in protecting vision. It is useful for conjunctivitis and glaucoma. A cup of its fruit juice combined with sweetie culls intraocular stress extremely.
Rheumatism: A tsp. of powdered dry Amla combined with 2 tsp of jiggery taken twice every day for a month helps cure rheumatism.
Scurvy: Being a rich source of vitamin C, this berries shows to be one of the best medicines for scurvy. The powdered of dry Amla can be combined with an equivalent quantity of glucose and taken one tsp, three times every day with dairy.
Other benefits: The berries functions as a catalyst for all the body parts of the body and develops wellness by restarting strength, and ending various disease-causing elements