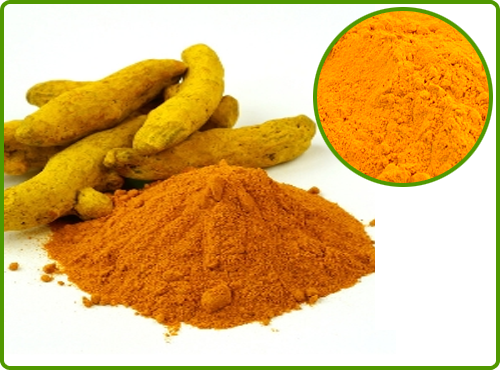 Type: Botanical Extracts,
Botinical Name: Curcuma longa
Common Name/ Other Name: Haldi
Scientific Name(s): Curcumin, Turmeric
Family: Zingiberaceae
Part Used: Rhizomes
Colour and Appearance: Orange Yellow coloured granular powder
Place of origin: Southern part of india,Tamil Nadu,Shelam
Brand: Ambe Ns Agro Products Pvt.Ltd
Product Code: AMBCT01
Specification: curcuminoids ,95% HPLC
Testing Method: HPLC
Application : Antioxidant, Anti-inflammatory, Anti-cancer
Packing: 25 Kg HDPE drums with double polybags inner side
Uses:
Curcumin is the principal curcuminoid of the popular Indian spice turmeric, which is a member of the ginger family (Zingiberaceae). Turmeric's other two curcuminoids are desmethoxycurcumin and bis-desmethoxycurcumin. The curcuminoids are natural phenols, and are responsible for the yellow color of turmeric. Curcumin can exist in several tautomeric forms.
Curcumin is an orange-yellow crystalline powder. Minor amounts of oils and resins naturally occurring in turmeric may be present. The origin of the plant Curcuma longa (Turmeric) which belongs to Zingiberaceae family is India. It has been produced by the solvent extraction of turmeric.
Curcumin is used in folkloric medicine to treat arthritis Preventing Alzheimer's Disease. Fight inflammation and infection Curcumin can improve rheumatoid arthritis symptoms, prevent blood clot formation, prevent gallstones and treat stomach ulcers.
We offer premium quality Curcumin Extract Powder to our valuable customers. Offered powder is processed from best quality curcumin in compliance with the industry set standards. this powder is delivered within assured time frame at the customers' end due to our vast distribution system, which is well-connected with airports, railways and road.
Natural Turmeric Curcumin, to meet the varying needs of our clients. Precisely processed,this range of herbal extracts is used widely for adding flavor to stouts. Offered at market leading prices, these products are packed in tamper-proof packaging so that, these extracts can be stored for long time.
Brief:
Tetrahydrocurcuminoids CG (THC) is a standardized powdered extract from the roots of the Curcuma longa (Turmeric) plant with skin whitening, anti-inflammatory and antioxidant properties, as well as providing UVB protection. It scavenges and prevents the formation of free radicals. It also inhibits tyrosinase, which inhibits the skin from producing melanin.This product is color-free, unlike the brilliant yellow color of other turmeric extracts and can be used in anti-aging, skin lightening, sun care and after sun care formulations.This product is GMO free and is GMP and Halal certified.
Benefits:>
Curcumin is the main active ingredient in turmeric. It has powerful anti-inflammatory effects and is a very strong antioxidant.
Its tuberous rhizomes (root like structures) have been used from antiquity as a condiment, as a textile dye, and for medicinal purposes. Curcuminoids are the major substances dat give the spice turmeric its yellow color. Curry powder, which is extensively used in Indian cuisine, is largely made of turmeric and other spices such as coriander and fenugreek. Curcuma Longa is the botanical name for turmeric.
The major curcuminoids are curcumin, demethoxycurcumin and bisdemethoxycurcumin which are powerful antioxidants and anti-inflammatory compounds.
Health benefit, which medical conditions can curcumin halp?
Many human trials are needed before we can no with certainty how to best use curcumin in medicine. But one thing is certain: most doctors are not aware of the potential medicinal benefits of curcumin and turmeric. There is ongoing research regarding the role of this herbal extract for its use in Alzheimer's disease, diabetes, inflammatory conditions, and several types of cancer. One concern is that it is poorly absorbed and most of it stays in the gastrointestinal tract which makes it ideal as a treatment for GI conditions. Some claim that absorption into the bloodstream is improved significantly when this supplement is used in combination with a black pepper extract called piperine, also non by the brand name Bioperine.