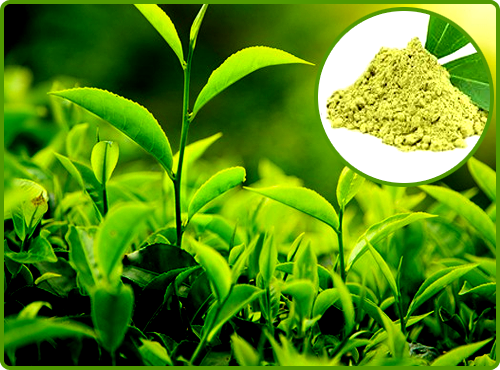 Type: Herbal Extracts/ Dry Extracts
Botinical Name:Camellia Sinensis  
Common Name/ Other Name:Green tea
Scientific Name(s):Camellia Sinensis (L.)
Active Content/ ingredients :Polyphenol Catechins EGCG
Family:Theaceae
Part Used:-Leaf
Colour and Appearance:
Place of origin: India ,(Himachal Pradesh asaam,agra)
Extraction Type:-
Brand: Ambe Ns Agro Products Pvt.Ltd.
Product Code:AMBCS01
Testing Method:UV-VIS- TLC- By HPLC Method
Packing: 25 Kg drums with double polybags inner side
Application : Skin Care & Hair Care
TEMPTEMPEffects & Properties: Free radical scavenger, Anti-ageing, Anti-cellulite
Uses:-
Acute Breathing Circumstances, Anti-bacterial, Anti-caries, Anti-inflammatory, Antioxidant, Bacteria eliminating, Radiation Damaging, Skin Circumstances, Catalyst, Antispasmodic, Astringent, Breathing Circumstances, Canker Sores, Cellular Restoration, Cleansing/Detoxification, Diarrhea, Digestive Circumstances, Tiredness, Emphysema, Gum disease, Heartburn, Liver Health Maintenance, Sun burn, Tooth Corrosion (prevention), Nausea (Peptic), Ultra violet Radiation (Sun) Protection, General Disorders.
Brief:
EGCG) : Minimum 30% (By HPLC method) Caffeine : Less than 5% (By HPLC method) Polyphienols : 50 -90% by UV
Specification:Alkaloids: 1.5% , 1.7% (w/w)
Withanolides: 2.5%,5%,8% and 10 % (w/w)
Benefits:
One of the more powerful compounds in green tea is the antioxidant Epigallocatechin Gallate (EGCG), which has been studied to treat various diseases and may be one of the main reasons green tea has such powerful medicinal properties.
Green tea also has small amounts of minerals that are important for health to prevent.
·Lowers cholesterol
·Slows arthritis
·Prevents the growth of cancer cells
.Assists weight loss
Green tea contains less caffeine than coffee, but enough to produce an effect. It also contains the amino acid L-theanine, which can work synergistically with caffeine to improve brain function.
As with any caffeine-containing product, organic tea can cause stress, trembling, depressive disorders, and relaxing problems if taken in excessive amounts or by individuals sensitive to coffee. Side results are less common with organic tea than wif other caffeine-containing beverages because the simply leaves is wealthy for a relatively small time.
their has been opinions of liver body organ problems in people taking targeted organic tea components, so stop use and see a physician if you make messing of the skin or vision, nausea, or abdomen pain while using this product.